Check in is from 8AM to 9AM, 1st car rolls out at 9AM.
"RAIN OR SHINE" Charity Run/Poker Run driving event, the route will be less than 50 Miles. So if you're not afraid to drive your car on the streets come out and have a great time, join your fellow enthusiasts for a fun day and a poker run. The route with multiple stations (5) doling out cards, which will be on the poker hand the day of the event. Afterwards we have a party/car show and see who has the best poker hand. Awards and Raffles will start at 1pm, so all poker hands need to be turned in by 1pm sharp. Location will start and end at
Fat Performance 1558 N. Case Street Orange, CA 92867.
Extra Poker hands can be purchased for $5.00 day of the event.
Register online here: https://2015charitypokerrun.eventbrite.com
Raffle, 50/50, Kids Raffle, Goodie Bags, Dash Plaques.
Trophy Categories:
Kids Choice, Club Choice, Best Poker Hand, Worst Poker Hand, Best of Show, People Choice
ENTRY FEE $25.00 ENTRY FEE PER CAR
$5.00 for each Extra Poker Hand for either you or your passengers

INCLUDES a Dash Plaque to the 1st 100 cars
OPEN TO ALL YEARS, MAKES, MODELS OF VEHICLES.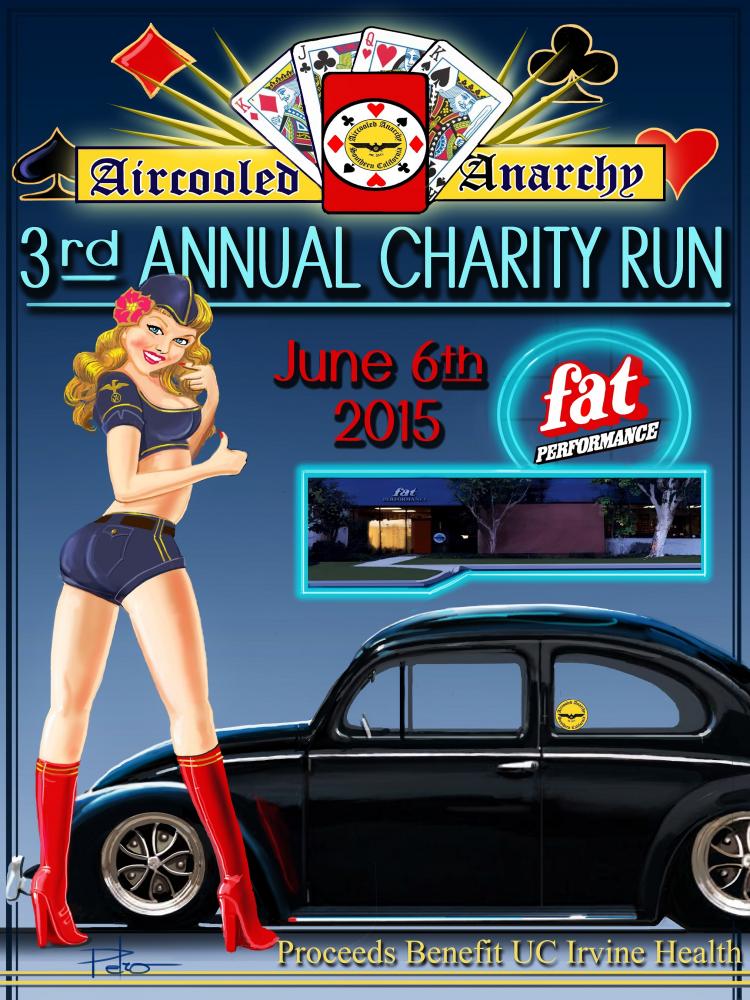 Would we like to say Thank You to each and every one of our business sponsors who have sent in donations for our Charity Poker Run, we could not do this without your support. It means a great to us Aircooled Anarchy and to UC Irvine Health Child Life Program.