Welcome to our Web Site!
Aircooled Anarchy is a VW Club, we are a place to come hang out, go on cruises, do other non-VW car shows and maybe some other events as well. We promote all clubs and their events. A place to post for general VW's Meets & Greets and Cruises that are not for only clubs that are in So Cal. This way if you know of an event you can add it for others to see it. We welcome all types of VW's and those who share the love of VW's.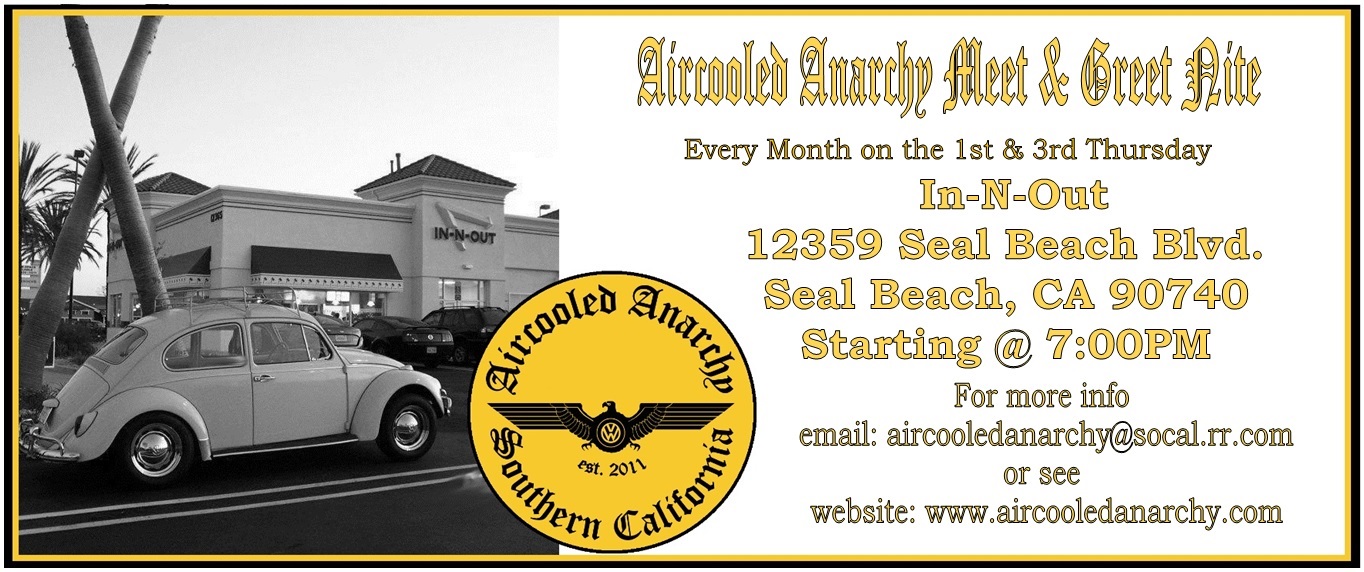 "Cruise for a Cure" for Breast Cancer Awareness.
Please come support our Charity event on Sunday Oct 5th, 2014 at Glory Days Beachside Grill for Breakfast at 8:00AM 620 Pacific Coast Hwy Seal Beach, CA 90740. Glory Days Beachside Grill will donate 15% of proceeds to the charity, so be sure to bring the flyer and give to your server.


We will be eating breakfast from 8AM to 10AM, then we will meet back in the parking lot at 10AM to have our Raffle and Opportunity drawing and then at 11AM we will start our cruise. We will cruise down PCH through Huntington Beach, Balboa Beach and then into Laguna Beach where we will end at
Ruby's Dinner 30622 Coast Hwy, Laguna Beach, CA 92651. You can stay and have lunch or just a nice cruise back home.

This will be open to ALL cars who would like to join us.

There is no cost to cruise, but there is for Raffle tickets and to eat.

Raffle ticket prices are as follows:
Qty 7 Raffle Tickets for $5.00
Qty 15 Raffle Tickets for $10.00
Qty 35 Raffle Tickets for $20.00
Opportunity Tickets $1.00 Each

Any questions, please contact Michelle @ AircooledAnarchy@socal.rr.com or Cell 714-329-2027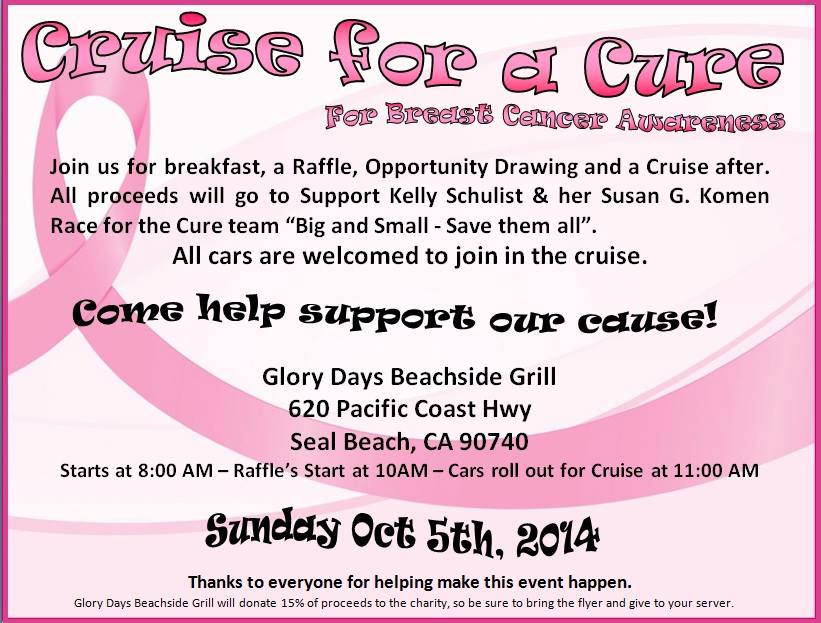 Darrin, Daniel and Michelle Zumstein got to meet with Mike Jordan and got his permission to redo his VW Street Legal Drag Car The "Canary". After many long hours of going over the details of the can and getting how the car was and getting a couple of pictures of the car as well. We already have the car to do it with. It is going to be exciting to see this car go through the different stages and turned into this icon street racer. We will be posting pictures of the car going through the different stages. I know many of you will remember the car one it is completed. So look for it in the future.